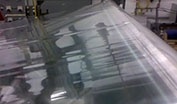 Winner of an IWEB 2015 Best Paper Award!
Pick the Right Pull Roller the First Time!
In this paper the role of a pull roller in a web machine is identified. Key points you will find in this paper are:
The ability of pull rollers, plain or vacuum type, to permit tension differences is explained and the three types of pull rollers are described.
Theoretical and experimental details on pull roller design is provided
Serves as a useful tutorial for those interested in learning about the practical design and operational aspects of pull rollers.
Dr. Kevin Cole received an IWEB 2015 Best Paper Award in the Tension Control and Traction category for this paper.