Need Assistance Troubleshooting Web Scratches?
We can help. Web scratches are often formed by an improperly designed or malfunctioning roller conveyance system.
The purpose of this paper is to develop and present simple equations relating roller velocity and wrap angle in terms of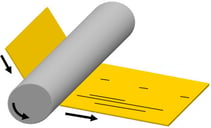 Scratch length


Scratch pitch

Web Speed
The paper will show how the equations can be used to diagnose potential roller candidates that might be possible sources of scratches.