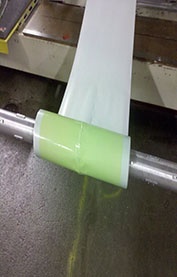 Reduce Wide Web Wrinkling!
Interested in reducing wide web wrinkling? This paper will review the results from wide web wrinkling including:
Wide web wrinkling due to roller misalignment for various materials and compare the experimental wrinkling results to isolated-span shear wrinkle models.

Share results from over ten different roller designs (including various concave roller profiles) demonstrating their relative effectiveness in preventing shear wrinkles and their ability to spread a web slit down its center.

Provide the results of an experiment investigation to eliminate wrinkles and an upgraded model to predict wrinkles caused by roller deflection in the negative bow direction.